With its bold flavors and tannic nature, you can try many hearty dishes when sipping a glass of Cabernet Sauvignon. Try your favorite Cabernet with grilled dark meats, pasta dishes with tomato-based or rich cheese sauces, and scrumptious dark chocolate.
Pairing Food & Cabernet Sauvignon
Meat
Fruit
Cheese
Pastas
Flank Steak
Strawberry
Bleu Cheese
Spicy Tomato
Beef Tenderloin
Plum
Feta Cheese
Rich Creamy
Pot Roast
Blueberry
Goat Cheese
Meat Ravioli
Lamb
Peach
Sharp Cheddar
Lasagna
Recipes
Sirloin Steak Kabobs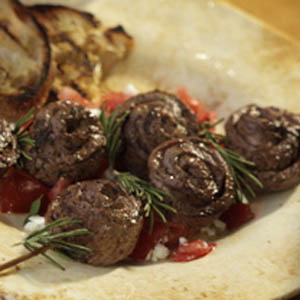 Ingredients:
1 1/2 pounds top sirloin steak, cut into strips
1 recipe Deliciously Bold marinade (below)
3/4 cup olive oil
3 large ripe tomatoes, cut in half
6 ounces feta cheese
1/3 cup chopped fresh oregano
Rosemary as needed for garnish
6 each metal skewers
Deliciously Bold Marinade:
1 cup beef broth
2 tablespoons Cabernet Sauvignon
1 tablespoon Worcestershire sauce
1 tablespoon vegetable oil
1 teaspoon Italian seasoning
Directions:
Place beef strips and marinade in zipper-locking plastic bag and refrigerate two hours. Roll each strip and thread onto skewers. Season with salt and pepper, and grill to desired doneness. To serve, put two tablespoons olive oil on each plate. Squeeze one tomato half over each plate. Tear tomato into pieces and place around the plate. Top with feta, fresh oregano and rosemary. Place one skewer per plate.
The Wellington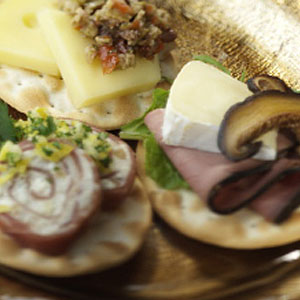 Ingredients:
1 package Table Water Crackers with Roasted Garlic & Herbs
4 ounces baby lettuce
1 1/2 pounds beef tenderloin, cooked rare and sliced into thin strips
1/3 pound Brie
1 pound exotic mushrooms, sliced thin and sautéed
30 edible flowers for garnish, such as pansies
Directions:
Place slice of cheese on each Table Water Cracker with Roasted Garlic & Herbs. Lay a small amount of lettuce on cheese. Top lettuce with a small amount of mushrooms and two strips of beef tenderloin. Garnish with a flower.
Lamb Cutlets with Tomato & Almond Salsa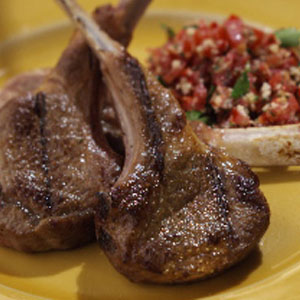 Ingredients:
12 trimmed lamb cutlets
Extra virgin olive oil
6 cloves garlic
4 long red chilies, split & de-seeded
Seasoned salt & freshly ground pepper
2 lemons, juiced
Salsa:
4 cloves garlic
Seasoned salt & freshly ground pepper
2 long red chilies, de-seeded & roughly chopped
2 large ripe tomatoes, peeled, skinned & diced
2 tablespoons toasted almonds
2 tablespoons parsley leaves
Splash red wine vinegar
Splash extra virgin olive oil
Directions:
Marinate the lamb cutlets in the olive oil, garlic, chile, seasoned salt, pepper, and lemon. Place the lamb on a hot BBQ & cook to medium rare, turning once.
To make the salsa, pound the garlic in a mortar & pestle, with a little seasoned salt and add the chilies. Pound a little further. Add the tomato, almonds, parsley, red wine vinegar, olive oil, and pepper. Place aside.
To serve, plate up the cutlets and serve the salsa on the side. Drizzle a little more olive oil over the top.