Here are some recommended foods to pair with Pinot Noir:
Pairing Food & Pinot Noir
Meat
Fruits
Cheese
Grains
Chicken
Cherry
Provolone
Creamy Pasta
Lamb
Blueberries
Mozzarella
Country Bread
Pork
Apricot
Goat Cheese
Flatbread
Veal
Peach
Parmesan
Foccacia Bread
Recipes
The Trolley Car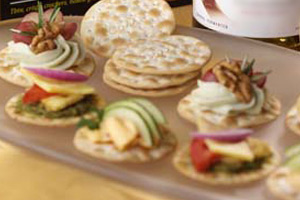 Ingredients:
¾ cup prepared basil pesto
1 package Table Water Crackers with Roasted Garlic & Herbs
1 ½ pounds Sonoma Jack cheese, sliced thin
¼ cup balsamic vinegar
6 plum tomatoes, sliced thin
1 small red onion, sliced thin
Directions:
Spread a small amount of pesto on each Table Water Cracker with Roasted Garlic & Herbs. Drizzle balsamic vinegar over cheese and let marinate 10 minutes. Top each cracker with a slice of cheese, tomato and red onion.
Cheese Tortellini with Creamy Tomato Sauce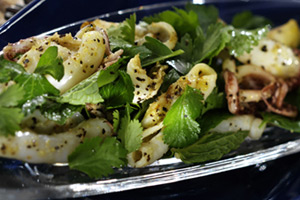 Ingredients:
½ cup minced onion
2 large garlic, minced
2 tablespoon olive oil
1 (28 ounce) can crushed tomatoes
large pinch dried oregano and chili pepper flakes
½ teaspoon each salt and sugar
1 cup (8 ounces) whipping cream
1 pound cheese tortellini
freshly grated Parmesan cheese
Directions:
In a 10-inch skillet sauté onion and garlic in olive oil until soft. Add tomatoes, rinsing can with 2 tablespoon water. Stir in oregano, chili pepper flakes, salt and sugar. Simmer, bubbling gently, for 10 minutes. Whisk in cream. Cook tortellini according to package directions. Serve sauce over tortellini. Sprinkle with cheese. 3/4 cup sauce per serving
Bittersweet Chocolate Bing Cherry Brownies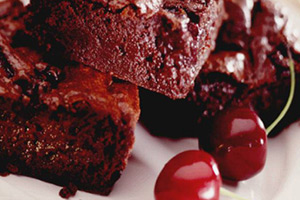 Ingredients:
2 eggs
½ teaspoon pure vanilla extract
1 cup sugar
½ pound bittersweet chocolate, chopped
½ cup butter
½ cup flour
¼ cup unsweetened cocoa powder
1 cup Bing cherries, pitted and quartered
Directions:
Whisk together the eggs, vanilla, and sugar until smooth. Slowly melt the chocolate and butter in the top of a double boiler. Add the melted chocolate to the egg mixture and whisk until incorporated. Sift together the flour and cocoa and fold into the mixture. Fold in the cherries. Spread the batter into a parchment-lined 8-inch square pan and bake at 350 degrees for 20 to 25 minutes, or until just done. Let cool in the pan and cut into 2-inch squares.
Makes 16 brownies