We recommended serving Riesling wine with appetizers to desserts, summer salads, fresh fruit, pork, poultry, fish, or as an aperitif. Rieslings are also able to handle the spice and zest of favored Asian foods.
Recipes
Barbequed Thai Style Chicken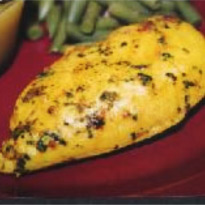 Ingredients:
1 bunch fresh cilantro with roots
3 cloves garlic, peeled
3 small red hot chile peppers, seeded and chopped
1 teaspoon ground turmeric
1 teaspoon curry powder
1 tablespoon white sugar
1 pinch salt
3 tablespoons fish sauce
1 (3 pound) chicken, cut into pieces
1/4 cup coconut milk
Method:
Cut cilantro roots off at the stem, and mince thoroughly. Set aside a few leaves for garnish. In a blender or food processor, combine cilantro roots and leaves, garlic, chile peppers, turmeric, curry powder, sugar, and salt. Process to a coarse paste. Pour in fish sauce, and blend until smooth.
Place chicken in a large shallow dish. Rub with the cilantro paste. Cover, and marinate in the refrigerator at least 3 hours, or overnight.
Preheat grill for high heat.
Lightly oil the grill grate. Place chicken on the prepared grill, and brush liberally with coconut milk. Grill chicken 8 to 15 minutes on each side, depending on the size of the pieces. Turn only once, and baste occasionally with coconut cream. Cook until browned and tender, and juices run clear.
Pork with Sauerkraut, Apples & Potatoes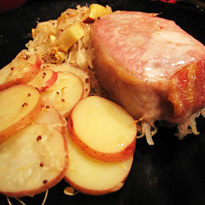 Ingredients:
2 tablespoons vegetable oil
4 pork chops
2 apples, cored and diced with peel
8 ounces sauerkraut
1/2 cup packed brown sugar
1/2 onion, chopped
1 tablespoon cornstarch
ground black pepper to taste
Method:
Heat oil in a large skillet over medium high heat. Add chops and brown well. Top with apple slices.
Meanwhile, in a medium bowl combine the sauerkraut, sugar and onion and mix all together. Thicken slightly with cornstarch. Place this mixture over the chops and apples and season with pepper to taste.
Reduce heat to medium low. Cover skillet and cook all for 15 to 20 minutes or until chops are cooked through. Serve hot.
Asian Chicken Salad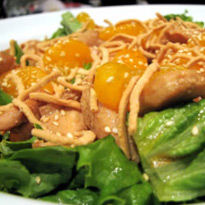 Ingredients:
2 tablespoons brown sugar
2 teaspoons soy sauce
1 tablespoon sesame oil (optional)
¼ cup vegetable oil
3 tablespoons rice vinegar
1 (8 ounce) package dried rice noodles
1 head iceberg lettuce - rinsed, dried, and chopped
4 boneless chicken breast halves, cooked and shredded
3 green onions, chopped
1 tablespoon sesame seeds, toasted
Method:
Prepare the dressing 30 minutes ahead of time by combining the brown sugar, soy sauce, sesame oil, salad oil, and rice vinegar in a salad dressing carafe.
To prepare the Chinese rice noodles, heat a skillet with a few tablespoons of oil and break off a little bit of the noodles and add them to the skillet and fry them. They will puff up in the skillet, so only add a few at a time. As they begin to puff up, remove and drain them on paper towels. Be sure to cook long enough as the under cooked noodles will be like eating needles. Once cooked, add them to the salad mixture.
In a large bowl combine the iceberg lettuce, cooked and shredded chicken, green onions and toasted sesame seeds. Let chill about 10 minutes, and just before serving add the cooked rice noodles. Serve in salad bowls and offer the dressing in a pourable container so your family can add as much dressing as they want. You can also pour the dressing over the top of the salad, toss, and serve immediately.