Great for a special occasion or just a Saturday afternoon, try your favorite effervescent treat with one of these:
Pairing Food & Sparkling Wine
Meat
Fruit
Cheese
Seafood
Chicken
Strawberry
Brie
Scallops
Pork Tenderloin
Raspberry
Provolone
Halibut
Flank Steak
Blueberry
Goat Cheese
Lobster
Turkey
Blackberry
Cream Cheese
Shrimp
Recipes
Pumpkin Swirl Biscotti Bars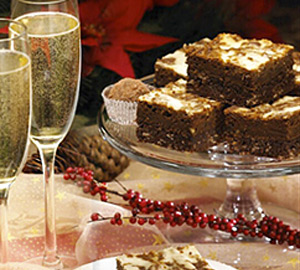 Crust:
3 cups finely ground biscotti
1 cup brown sugar
1 cup rolled oats
1 stick soft butter
2 eggs
Pinch of salt
Filling:
1 can pumpkin
2 eggs
2 cups finely ground biscotti
1 stick soft butter
1 teaspoon baking soda
1 teaspoon ginger
2 tablespoons cinnamon
1/2 teaspoon nutmeg
1/3 cup sour cream
1/3 cup sweetened condensed milk
Swirl Top:
1/3 cup sweetened condensed milk
1/3 cup whipped cream cheese
1/3 cup plain yogurt
Method:
Mix crust ingredients on medium low until thoroughly mixed (approximately one minute). Spread into greased 9x13 baking pan. Bake at 350° for 15 minutes. Mix filling layer on medium low until thoroughly mixed (approximately one to two minutes). Evenly spread filling over baked crust. For the swirl top, mix sweetened condensed milk, whipped cream cheese, and plain yogurt for 30-60 seconds. Dollop on top of filling and drag knife through for swirl decoration. Bake at 350° for 50-60 minutes.
Peach Sorbellini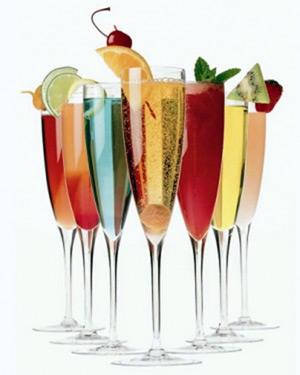 Ingredients:
1 bottle Sparkling Wine
3 rounded tsp of Peach Sorbet
Method:
Fill a 6 oz. flute 2/3 full of sparkling wine.
Carefully add the sorbet balls and serve the remaining sparkling wine on the side. (To offer an assortment of fun cocktails simply replace the fruit sorbet in the recipe with your favorite flavor!)
Sparkling Sangria

Ingredients:
½ oz. simple syrup
1 orange quarter
1 lime quarter
½ oz. orange liqueur
½ oz. Spanish brandy
3-4 oz. Sparkling Wine (chilled)
2 oz. lemon-lime soda (chilled)
1 maraschino cherry
Method:
Muddle fruit slices in a shaker cup with simple syrup. Add liqueur and brandy with ice. Shake, then strain into a cocktail glass. Add soda and top off with cava. Drop in cherry or secure to an orange wedge using a toothpick, to decorate the rim.